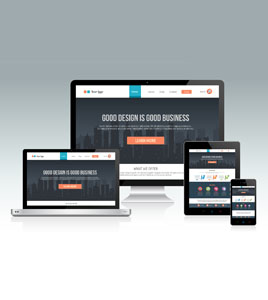 Whether you're a small company or international corporation, Data SofTech offers the full spectrum of marketing and design services in an unmistakably 'you first' format. We take the time to truly understand your business and what makes you tick, because only then can we decide on the most effective promotional path to take from there.
We work with customers from across the world, we offer a range of website design services from online brochure style websites to online shops. Each website comes with a wide range of free features which many others charge for, as a small company we can provide you a personal service from start to finish and will work closely with you to ensure the website meets your every expectation.
Our Web Design Service can further categories into
Custom Web Design
Ecommerce Website Design
Responsive Website Design
Landing Page Design
Mobile Website Design
Website ReDesign
Custom Web Design
It always feels wonderful when we have things as we want them to be. With an exclusive business goal you often need some vibrant invention for attracting consumers towards your business. Having a new custom designed website helps to enhance your sales and expose you to thousands of new clients, because nothing is worthier than satisfying the consumer with exactly what he needs.
Web Design is something beyond technique. A website is often the first impression of a company for any customer, hence you need to consider many aspects in order to develop a professional, imposing and instinctive site. The custom website we design will convey the strongest image to your client's desire.
The professional & creative designing team at Zolute aims at providing you the edge you need to put yourself strongly in the competition. Our custom website design service would give you an opportunity to help you & your business become a major Internet success. And your success will make us proud.
Ecommerce Website Design
Ecommerce design has to be flexible and it has to be able to grow alongside your business. All of our solutions are fully scalable and our professional web design means that you can promise your customers a seamless shopping experience that's hassle free.
We can manage all aspects of your ecommerce website from web design to SEO optimisation and our track record of implementing projects successfully means we can guarantee speedy service at an affordable price.
Responsive Website Design
Responsive web design allows your website to be one step ahead of the latest devices.
By making use of fluid design and crafting your site to respond optimally to the size of the screen it is viewed on, it will look perfect whatever the environment - be it iPhone or large desktop monitor.
Responsive design will save you time and money over the short, medium and long term. One site = a multitude of deployment possibilities! Going responsive guarantees lower initial set-up costs compared to developing concurrent mobile and desktop versions of the same site. It also means you only have one site's content to maintain, thus lowering the risk of incorrect/inconsistent content across the company's web presence.
Landing Page Design
The landing page is your only chance to convert online searchers into leads or customers. It's vital to get it right because it is the first page on your website users see when they click on your ad. If they click away again because they can't find what they are looking for, then that's wasted money, and a lost opportunity.
At Data SofTech we're experts in designing and creating landing pages with impact, that help turn browsers into buyers, and build your sales. We've saved money and improved conversion rates for clients large and small in every sector of business. For our dental surgery client Dentaprime, for example, a comprehensive 3-stage landing page design and testing campaign reduced the cost per acquisition by over 60%.
Mobile Website Design
Today, around a third of all traffic is from a mobile or tablet. This figure is projected to be at least 50% by 2014! So you must ensure that your website can be viewed by a mobile device - or you could miss out on valuable leads or sales.
Make it easy for your customers to find what they're looking for with a website that works flawlessly across mobile, tablet and desktop. We'll optimise your site for a range of devices, from iPads to iPhones, all at no extra cost.
Website ReDesign
If you have an existing website you are probably aware of what improvements you would like to see made through a website redesign. We will take your ideas and combining them with our design and technical knowledge to deliver to you a website that improves your business image and increases your search engine visibility.
Website redesign does not always involve starting from scratch. Often re-jigging of content, improving website navigation and optimising photographs and graphics is all that most company websites need. In some cases however, the existing page code is so badly written or code heavy that a page re-write is inevitable if the website is to achieve better search engine visibility.