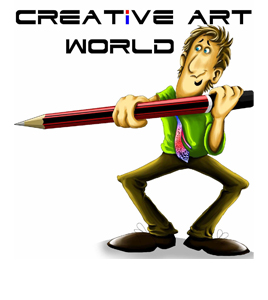 Data SofTech provides a wide range of graphic design services for both small and large businesses with a focus on professional and integrated branding.
No matter what your budget is, We are more than happy to talk you through and show you a variety of simple and effective ways to enhance your business through graphic design. Whether design for print or web, we will enable you to reach a wider audience and create opportunities to grow your business.
Creative Design
Creative designing tell your brand's story through appealing visuals. Book covers, brochures, web pages, logos, graphic designs or just a humble visiting card - when designed well, these speak volumes for your brand. Businesses always benefits through visual mediums, like, crisp colors and expert creativity to attract customers, instantly. But getting the right kind of creative services is probably the most challenging task in this whole process. Therefore, whether it is a small company or a big establishment, creative design services are crucial for every organization.
There is a lot that goes into building a brand image of your organization, and DST has all the arms and ammunition to get the work done cost-effectively.
Our Graphic Design Service can further categories into
PSD Template Design
Business Stationery
Brochure and Flyer Design
Packages and Ebook Cover Design
Logo Design
Advertising
Banner and Header Design
PSD Template Design
Web templates that enable experiments on many ways to tweak your website design.
Every website has different looks needs; there are many different types of website that provide a host of the different features. The development team backward PSD Template is able to custom program any and all elements that your site may require.
PSD Template appreciates that in a fast passed world many ideas need to be launched within a fast and effective time frame. We offer arrange or 'time to completion' solutions if your project or need is time to the critical. Depending how to complicate your site may be, we are potentially able to turn it around a complete site from concept to production in as little as one week
Business Stationery
Need to print business cards, stationery or letterhead? Data SofTech can help
Business cards and stationery are an essential part of your professional identity. Bring your ideas and we can help you create custom business cards in full colour, with glossy or matte paper stock, single-sided or double-sided cards. We even offer fold-over business cards if you're looking for something different.
Need company letterhead, envelopes and notepads to go with those business cards? We helps you get creative with your own unique designs and layouts, multiple paper sizes and stocks. Whether for personal use or to promote your business, our services are here to help.
Brochure and Flyer Design
A brochure or flyer is the descriptive representation of your company. It needs to communicate a clear message of what your company offers in a concise, visually appealing and easy to read manner.
A professionally designed brochure will help you to secure sales by presenting photos and information in a compelling way that enhance your brand image and feature your products and services. The layout and design of a brochure is important as it will influence your customers buying decision. Designed to DST's graphic designers, marketing experts and copy writers can help you to bring your brand to life in print. Your brochure is an important tools your marketing campaign and like all sale material should look professional, be in line with your company branding and have a clear call to action.
Packages and Ebook Cover Design
Our packaging design services include pre-press creative design & prototyping; artwork development, mould & structural design; lithography, pre-flight and trapping activities, resolution and colour rectification, bleed printing, proofing, press and mass production; design re-engineering and refinement. We have the necessary experience and skills to handle high-volume SKU assignments, through well-crafted and judicious mix of intuitive creativity and established metrics. World class Packaging Design Solutions at affordable pricing!
Logo Design
A bad logo stunts progress. A great logo on the other hand, helps your business get noticed and battle against domain saturation and increased competition. In other words, it feeds the progress of your business.
The quality of your business's products and services and the symbolism of your logo walk hand in hand. At Data SofTech we work hard to design a logo that is all that your business stands for and the ethics and principles that power its processes.
Advertising
Brilliant custom design gets people talking. Outstanding advertising translates into increased sales. When it comes to marketing and your custom print media collateral (business cards, brochures, billboards, packaging for distribution), you want every dollar to count. We offers a vibrant team of young, creative, marketing professionals with the skill and artistic talent to get your business message heard
Check out our wide range of custom print design services that will get your message heard loudly, clearly, and tastefully. When we create a look for print, we use a host of eye-catching, professional graphic designs that are built just for your business and its target demographic. The print advertising field is well established. We don't do ho-hum. We do design that draws the eye and gets consumers reading what you produce.
Banner and Header Design
Web banners are still one of the most popular and most effective forms of online advertisment. They play the same role as printed ads but in digital world of internet.
Our skilled design team delivers professional static web banners swiftly and with unparalleled creativity. Our design process extracts information about the product, industry and target audience to provide you best value for money in web banner design. Our goal for your company is to turn those who view your banner into targeted visitors.
Landing page is usually one webpage shown after a viewer clicks on a web banner or any other online ad. It is a follow up to a link that attracted a viewer. It contains full advertisement message and a link to more information about product, service, event or an order form. Landing page can be designed for any event, promotion, product or service.