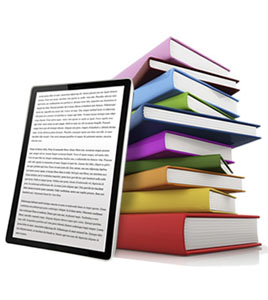 Data SofTech is a trusted name when it comes to content conversion & digitization services. We build first-rate, responsive e-books that yield their best.
Thanks to the growing use of electronic and mobile devices, knowledge has gone "digital". It's undoubtedly a good thing, for digitization makes it easier to locate and work with content. Organizations, educational institutions and businesses alike are now required to produce and publish content on the digital media.
Our publishing team is equipped to deliver all types of services and solutions which allow customers to stay competitive.
Data SofTech offers a comprehensive range of services for publishing and printing, in particular we are specialized in handling various types of books and scientific/technical/medical journals. We follow a structured XML workflow system for both conventional and online publishing. Our software and R&D experts always concentrate on innovation and provide automated solutions for each project. In addition to this, we handle all the publishing and prepress related services.
Our services can be broadly categorized into the following areas;
Editorial services
Composition services
OCR/Paper Scanning
Conversion services
Digital Publishing Solutions
Editorial services
Data SofTech's editorial services are tailored to meet your specific content requirements. They deal with ensuring the quality of content, language proficiency and accuracy of information. Our editorial services include:
Copyediting and indexing
Proofreading
Document management
Internet publishing
Composition services
If you need to put together an eBook, an e-Journal, a catalogue, or a newsletter, Data SofTech can help you with it. Right from planning the project to designing and delivering the end product, our professionals offer their expertise at every step. Our composition services include:
Composition
Copy editing
Text processing
Proof reading
QC
Indexing
Artwork handling
Cover page designing
OCR/Paper Scanning
Optical character recognition (OCR) is the mechanical or electronic conversion of images of typewritten or printed text into machine-encoded text. It is widely used as a form of data entry from printed paper data records, whether passport documents, invoices, bank statement, receipts, business card, mail, or other documents. It is a common method of digitizing printed texts so that it can be electronically edited, searched, stored more compactly. OCR is a field of research in pattern recognition, artificial intelligence and computer vision. Our OCR services further includes:
Hand print
Cursive
Digital documents
Permanent records
Books
Images
Magazine
Conversion services
If you have a huge backlog of data that needs to be converted into the digital format, you have come to the right place. We have the resources to convert your data to any desired format and platform. We offer the following conversion services:
XML
SGML
HTML
ePUB
PoD (Print on Demand) and other eBook formats
PDF Conversion
Digital Publishing Solutions
Data SofTech is the industry's leading provider of e-book services to major publishers — such as McGraw Hill, Pearson, Elsevier, Random House, Penguin and much more.
XML (Extensive Mark-up Language) is a cross-platform web-publishing format used to display and store information on the internet. The advantages of XML over other web-publishing formats include its flexibility, scalability, versatility and validation ability. Transforming existing web publishing formats to XML has been one of the most prolific tasks organizations perform, apparently due to the various advantages provided by the XML format.
We can convert documents from almost all known electronic formats to XML. Some of the formats which we can convert to XML are:
Text
Word
PDF
HTML
Excel
RTF
In order to make your engagement with Data SofTech smoother, we have working with different methods for uploading and downloading data. They include:
we're also pretty social: